Zion National Park Information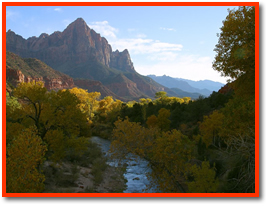 Zion National Park is Utah's oldest national park and one of its most beloved tourist destinations. In 1909 the park was established as Mukutuweap National Monument and then in 1919, the park was expanded to its present day size of 229 square miles and renamed Zion National Park. Most of the park's 147,000 acres are located within Washington County; however, the park does stretch into Iron and Kane County as well. The first inhabitants of the park were the Native Americans, first the Anasazi and later the Piute tribes called the red sandstone cliffs of Zion National Park their home. The first white settlers to the area were a group of Mormon pioneers who arrived in the 1860's. These pioneers were awe inspired by the beauty and magnitude of Zion. The names these pioneers gave to the canyons peaks and rock formations; names such as, The Great White Throne, Angels Landing, Temple of Sinawava, the Guardian Angels, the Pulpit, Mount Moroni, and the Tabernacle, reveals much about the nature of the land and the reverence it inspired in those who settled near it. Zion itself is an ancient Hebrew word that stands for place of peace and refuge. As you visit the immense canyons of the beautifully sculptured rock formations, soaring cliffs and breathtaking landscapes you will agree that Zion National Park certainly lives up to its name.
Visitors to Zion National Park can enjoy a walk along paved hiking trails, a children's nature center, visitor centers at both Zion Canyon and Kolob Canyon, ranger-guided hikes, naturalist programs, and evening campfire talks. Simply driving through the park is breathtaking. In Zion Canyon, the rock walls tower 2,000 to 3,000 feet above your car. Aside from the great hiking trails and scenic driving tours, Zion National Park is also very popular for rock climbing, canyoneering, and horseback riding. Bicycles and ATV's are not allowed within the park's boundaries, but there are several excellent trails surrounding the park that provide incredible viewpoints into the canyon below.