Western Adventure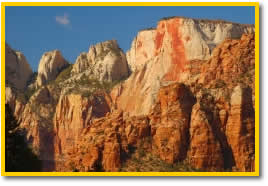 Imagine hearing the creak of the wagons or the rhythmic clip-clop of your horse's hooves and breathing in the smell of leather, sagebrush and ponderosa pine as you travel along surrounded by the beauty of the Zion National Park area. At Zion Ponderosa you and your group can take part in the true American western experience. Everyone from the youngest to the oldest will enjoy escaping the traffic and the crowds and taking a moment to relax and enjoy nature the way the folks of the old west used to do. We understand that many people wish to have a genuine outdoor experience but cannot spend the time or don't have the gear to undertake a long expedition. Our western adventures are the perfect solution for those nature lovers who just need a short escape. Our adventures include: a guided horseback riding tour, a wagon ride and Dutch oven dinner, and an archery and shooting range.
Horseback Riding
There's nothing quite like seeing the beauty of Zion National Park from the back of a horse. We humans have been riding for 4,000 years, but ever since the introduction of the automobile, we seem to have completely lost touch with our equestrian past. At Zion Ponderosa you can experience the flavor of the Old West as our professional wranglers guide you along through the incredible Zion National Park area. You can choose from half-day, full-day, or overnight horseback riding excursions. All riders must be eight years or older. Pony rides are available for children under the age of eight.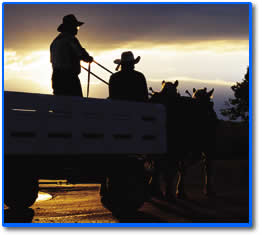 Wagon Ride & Dutch Oven Dinner
The role of the covered wagon in winning and settling the West is well known. In our re-created pioneer wagon you will have much the same experience as the early settlers. Our gentle Belgian horse team will pull your wagon through stretches of sagebrush and groves of pines until you begin to smell the campfire and delicious Dutch oven dinner. After dinner you will return by wagon to the resort. Our wagon ride and Dutch oven dinner is a great way to relive history as you travel through some of the most scenic areas in Southern Utah.
Archery/Shooting Range
At the Zion Ponderosa archery and shooting range you can learn how to shoot arrows as well as the basics of gun safety. Accompanied trips to our secluded shooting range will be made three times a week for both target and trap shooting.