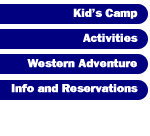 Dining Your all-inclusive vacation is complete with full dining privileges each day you are at Zion Ponderosa. Our guests do not go away hungry.
Breakfast
Each morning your group will awake to a full selection breakfast bar. Hot and cold items are available including eggs, bacon, sausage, pancakes, rolls, bagels, cereals, juices and more. You are welcome to return to the breakfast bar as often as you would like, but remember to save room for lunch.
Lunch
Choose to have your lunch bagged for an outdoor adventure or stay back at the ranch for a made to order hot or cold lunch. Either way, you will find that you and your family will be happy with your selection. We serve deli sandwiches, soup and salad bar, daily specials, hamburgers and hot dogs. If you decide that you want to meet during lunch so that you can play in the afternoon, ask us to cater your meeting.
Hot Cookies
Every afternoon at 3 p.m. our kitchen staff prepares delicious hot cookies. You will find your favorite whether it's chocolate chip, white chocolate with macadamia nuts or oatmeal, they are all fresh baked every day.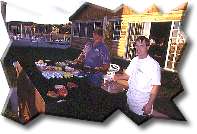 Dinner Zion Ponderosa takes pride in its nightly dinner feast. We offer a variety of grilled items including rib-eye steaks, halibut, Utah trout, salmon, and marinated turkey breast. You may also choose our nightly dinner theme which ranges from Mexican, to Italian, to seafood.