Because we cater to families and groups throughout the year, we are well aware of the need to offer diverse and abundant activities. Family activities are part of the Zion Ponderosa way.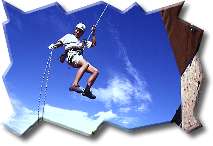 Ropes Course/Rock Climbing/Rappelling
Zion Ponderosa has recently finished construction of a 40-foot high climbing and rappelling wall. This wall is the biggest wall in Southern Utah and has charted climbs for both the beginning and advanced climbers. The wall is the perfect centerpiece for family fun. With over 20,000 square feet of indoor/outdoor climbing surface, our wall is the hot spot both in winter and summer months.
Families will find that during their vacation at Zion Ponderosa the will become closer. Our activities are exciting enough to bond both parents and children alike. This bonding experience is very apparent when families combine efforts to tackle the feat of rock climbing together. After you train on the wall, you may want to go with our trained staff to rappel a slot canyon.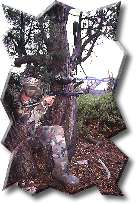 Paintball Competitions Team up against each other and go for the flag. Many families find unifying experiences in a simple game of paintball, not to mention a lot of fun!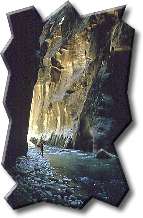 Group Hikes Zion Ponderosa shares seven miles of common fence and breathtaking scenery with Zion National Park. We'll provide you with direct access to many of Zion's world famous trailheads. Choose to hike together to see the magnificent views of the Cable Mountain and Observation Point trails or to experience the rugged adventure of Orderville Canyon - a major tributary to the popular Zion Narrows. Zion Ponderosa provides shuttle service to and from Zion Park trailheads for our guests.
Other Group Activities
Throughout the day, you can choose to horseback ride, mountain bike, ATV ride, swim, play volleyball, tennis, archery, shooting rancge and much more. There are more activities available at Zion Ponderosa than there is time in the day.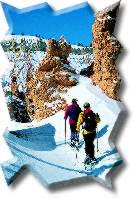 Winter Activities
Winter at Zion Ponderosa is a beautiful time of year and offers snow activities for groups and individuals. Choose from unbelievable winter hiking, horseback riding and guided ATV tours. If you are a cross-country skier or snowshoer you will be in heaven. Indoor climbing and rappelling as well as trap shooting, paintball and pond fishing are always available.